Lefteris Water Sports - Boat Rental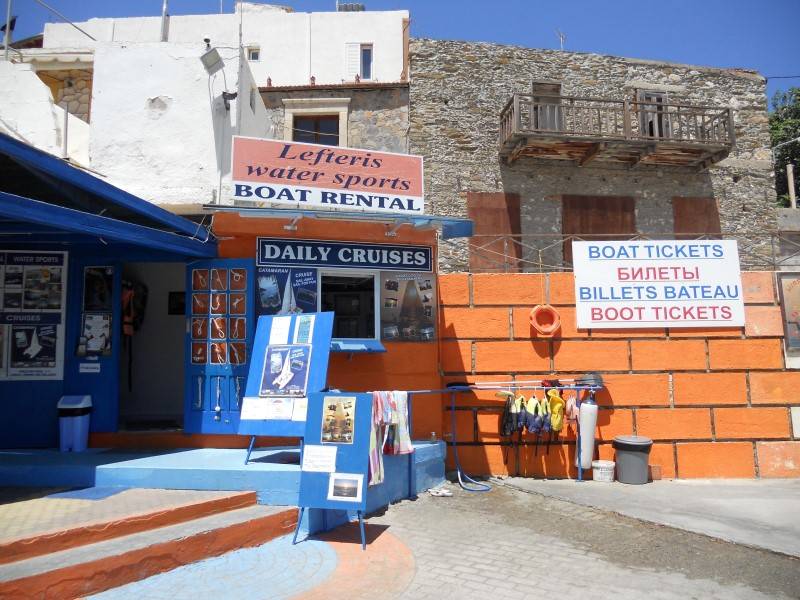 More photos
Click to enlarge
DAILY CRUISE
Our trip starts at 09:20 from Bali port. After about one and a half hours of sailing we arrive at a small secluded beach for swimming & snorkeling and then we explore the pirate caves by a small boat, admiring the stalagmites-stalactites colorful formations. At the fishing village of Panormo, we taste local specialties in a port taverna and walk through its picturesque streets. Following the coast-line, we stop for swimming and sail to areas where dolphins have been spotted.
Treat yourselves a fascinating day at sea with us.
CATAMARAN À VOILE
Au départ à 09:20 de Bali, commence le voyage vers les grottes de pirates où nous arriverons après une heure et demie de voyage. Là nous pouvons nager et admirer les formations des stalagmites/stalagmites dans les grottes. À midi nous goutons les spécialités crétoises dans une taverne à Panormo, et plus tard, nous pouvons découvrir le village. Pour l'après-midi, en suivant la côte, nous nageons et cherchons les dauphins.
Profitez d'une journée fascinante en mer avec nous.
KREUZFAHRT MIT DEM KATAMARAN
Wir fangen um 09:20 Uhr an, Richtung Piraten Höhlen. Nach eineinhalb Stunden, erreichen wir eine schöne einsame Bucht, wo wir schwimmen können, und dann besuchen wir die Stalagmiten-Grotten. Später probieren wir kretische Spezialitäten in einer Taverne in Panormo und spazieren im Dorf.
Auf dem Rückweg schwimmen/schnorcheln wir, und können bei günstigem Wind auch segeln.
Gönnen Sie sich einen unvergesslichen Tag mit uns auf dem Meer.
Nejlepší plachtění je na palubě "Flash Dance"
Náš výlet začíná plavbou západním směrem k městu Rethymnon. Po cca 1 a půl hodině plavby zakotvíme u malé odlehlé pláže, kde se budete moci vykoupat, nebo šnorchlovat v křišťálově průzračné vodě, poté budeme s malou lodí naplouvat do pirátských jeskyní, kde budete moci spatřit krásně barevné krápníky. Dále plavba pokračuje do malé rybářské vesničky Panormo, kde navštívíme tradiční tavernu s výhledem na celý rybářský přístav, zde budete moci ochutnat kulinářské speciality naší oblasti. Po obědě je čas na procházku po vesnici, či k relaxování na pláži. Naše plavba pak bude pokračovat do míst, kde nám často dělají společnost delfíni.
Pojdťe si s námi užít fantastický den na moři, plný nevšedních zážitků!
ODJEZD: 9:20 NÁVRAT: 17:30 OBĚD A NÁPOJE JSOU ZAHRNUTY V CEN
Address: Bali - Rethymno
Telephones: 0030 2834094102, 0030 2834094101
Mobile: 0030 6937200333
Fax:
Email: cat_cruises@yahoo.gr