MUNICIPALITY of GAVDOS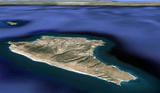 The southernmost municipality of Crete, Greece and Europe. It is low populated, whereas according to the 2001 inventory the region counted 98 inhabitants. It also includes a few settlements, such as Castri, Xenakis, Vatsian, Ampelos being certain of the few picturesque settlements of the region. It is a tourist destination for "sophisticated" visitors, whereas during summer it attracts thousands of visitors from Greece and abroad. Gavdos together with the neighboring Gavdopoula are a station for migratory birds during the long journey from Africa to Europe and vice versa, as well as a haven for endangered species of seals and careta-careta turtles. Gavdos has great beaches, such as Karave, Trypiti, Sarakiniko, Agiannis, Lavrakas, Pyrgos and Ptamos.
The most picturesque and clean beach is that of Ag. Ioannis, the second best beach in the world according to Discovery channel.