MUNICIPALITY of SFAKIA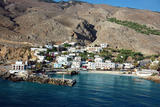 A municipality that combines almost everything. Glorious history, culture, tourism development, stunning beaches, the canyon of Samaria, the rugged landscape, special and distinguished people. Sfakia has been the starting point of the most important Cretan Revolutions against the Turks, with leading the revolution of Daskalogiannis in 1770, and Thymiani Panagia in 1821 known as the "Holy Lavra of Crete". The involvement of Sfakia people both in World War II and in the resistance against the invaders has been significant. The Canyon of Samaria is located in Sfakia, being the largest and most impressive canyon in Europe, as well as Frangokastelo the castle of the legendary Drosoulites, ghosts of the castle defenders, under the brave Hadzi Michalis Giannaris.
The city Sfakia is located in Sfakia, as well as Loutro and Agia Roumeli attracting thousands of visitors. The last two do not have road access but are accessible only through ferry, whereas Samaria canyon finds its exit in Agia Roumeli.