MUNICIPALITY of KANTANOS - CELINOS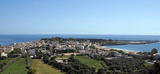 It is a municipality with mixed economical activities, engaged both in tourism and agricultural-livestock sectors. Two of the most popular areas of southern Crete, Paleochora and Elafonisi are situated in this municipality, jointly with the Municipality of Kissamos. Here is the museum of Akrites of Europe. So, tourism has a large part of economic activity, since except sea vacations, the region offers excellent nature paths, caves and Byzantine churches. Mainly Kandanos region is full of water and olive trees, oaks, chestnuts, pines, cypresses, oaks, herbs, citrus and vines.
Eastern Celinos Region
It is crossed by Agia Irini, a canyon or rare beauty, which extends from the village ending to the sea (it is crossed within 2-3 hours of walking). It is connected by sea with the province of Sfakia, Gavdos and Paleochora, while Lissos canyon extends from the port, leading to the ancient homonymous city. Lissos has flourished during Doric and Roman period and has significant archaeological discoveries, including the famous Temple of Asclepius.
Pelecanos Region
Dealing with tourism and cultivation of early vegetables in Kountoura, in conjunction with traditional olive cultivation and livestock, render the municipality of Pelecanos an important factor in the economic development of the region, while the cultural, historical and environmental characteristics as well as its existing infrastructure in education make the region the center of cultural life of Selino province. Paleochora is also situated in this area.