MUNICIPALITY of KISSAMOS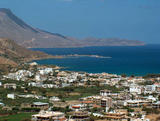 The city, having its capital in Kissamos, has developed special activity in tourism, having many beautiful beaches, such as Balos and Elafonisi known all worldwide. The municipality is characterized by significant comparative advantages such as habitats and priority species, important and unique for the entire Europe, canyons, Natura 2000 areas, flora-fauna, beaches providing possibilities for holidays throughout the year, etc.
There are significant tourist facilities (Hotels, Apartments and Rooms Agritourism Units) that can meet your requirements throughout the year. Intense activity has been developed in recent years in the construction of holiday homes purchased mainly by citizens of the European Union as a second home. The products of oil, wine and oranges have won numerous awards.
Mithimna Region
Here are the ruins of ancient Mithymna surrounded by olive groves, and the church of St. Panteleimon, built in a cruciform shape with cylindrical and rectangular dome shape on its floor. West of the ruins Nopigia the visitor can admire the Roman settlement, as well as the church with Byzantine frescoes, dedicated to St. George. In the Municipal District of Mithymna you can also see the Rizospilios's Cave, wherein an underground river flows.
Inahorio Region
This is a unique puzzle of natural beauties extended to 137 thousand square meters with 90% of mountainous rocks, with distinguished beautiful beaches that remain unforgettable to every visitor. Blue beaches with crystal clear waters remain unforgettable to every visitor. Some have exotic look with shimmering pink sand and turquoise waters (Elafonisi), while others have green cliffs and clear blue waters.